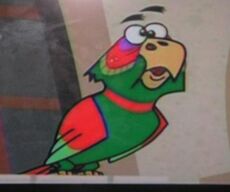 The Parrot, voiced by Neil Crone, is an abandoned pet, left behind at Stu's Adenture Camp in "A Bird in the Hoof". Stu at first thought that he could use the bird to make money; tourists might like to dine with a parrot, for example. However, the parrot twisted up everything he said (as he normally does), and Stu feared that the tourists would get the wrong opinion about his camp. He told Robert and Robear to abandon the parrot in the rainforest; where Iggy and Jiggers found out about the parrot, and took him in. The parrot's crazy phrases ("Iggy the Big Kook!", "Worry! Don't count on Jiggers!", etc.) made them decide that Zoop, who has more patience with such things, should take care of him. She was willing to, at first, but he got to her, even. After causing the whole town to get into a huge street-fight with his wild remarks, he finally found a friend in Spiff, who, as Iggy says "Is the only one who gets him!". He gets choked at the end of the episode by the closing screen.
Ad blocker interference detected!
Wikia is a free-to-use site that makes money from advertising. We have a modified experience for viewers using ad blockers

Wikia is not accessible if you've made further modifications. Remove the custom ad blocker rule(s) and the page will load as expected.